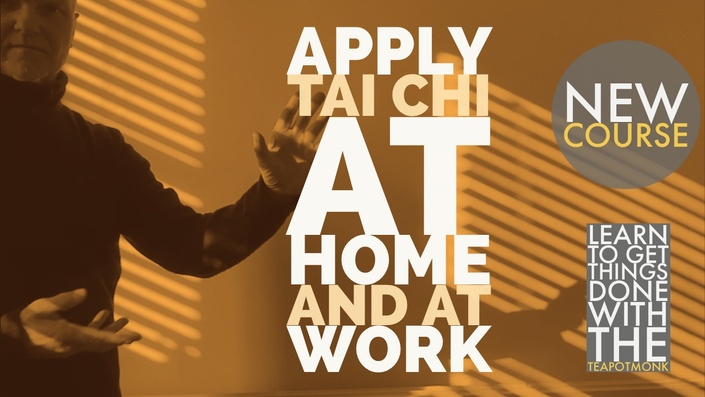 How to Apply Tai Chi in Your Life at Work and at Home
Discover how to use the exercises and principles of Tai Chi for better health, mindfulness and a stress-free life
Watch Promo
Why Tai Chi is the Perfect Tool for Managing Your Health
There are a lot of courses out there teaching you how to cope with stress, ill-health or tension at home or in the workplace, but few with the history and depth of approach that Tai Chi provides, for this ancient practice not only can tell you what to do, but more importantly it can show you how to do it.
Today, more and more of us experience the negative aspects of a work life from home or in an office where our work seems to never end - it reaches out into our travel, social and even leisure time. Tai Chi has an answer to this, for it is full of simple and easy exercises that can be incorporated into our daily activities so when we have a stressful day or a particularly challenging event occurs, we are ready and poised to deal with it.
What this Course Teaches
To regain a healthy balance we need to implement some simple changes and that's what this course teaches in four complete sessions:
1: You will learn the importance of posture. Working up the body, introducing exercises for each part that will help build awareness of tension and develop good alignment skills.
2: In the following session you will learn a new approach to focus and concentration, looking at the imagination, eye exercises, peripheral vision and finally learning a moving mediation called - Cat Walking
3: Next you will learn about: work space, breathing, diet and food for all these have a direct impact on your energy levels and ability to stay relaxed and focused.
4: Then we will move onto the ideas of slowing down and building balance - two notions with accompanying exercises that are essential to developing a good set of tools that will resist the negative impact of stress in your life.
Finally, throughout this course, you will learn a series of simple and easy Tai Chi postures, so that by the end, you will have a beautiful and harmonious mini-sequence to practice each day - to fend off stress before it even gets close.
Why Learn with Me?
All the exercises and approaches in this course have been selected from the years of training I have given hundreds of students who have come in search of help - for guidance and advice on best methods for resisting mounting pressures at work or at home. I can't give you a less stressful job, but I can give you the tools to turn that stress into something useful and in turn, make you a calmer, more relaxed and more balanced person.
A final Bonus
All the exercises and approaches you will find in this course come from a book I wrote some years back called The Manual of Bean Curd Boxing: Tai Chi and the Noble Art of Leaving Things Alone. Many readers over the years asked if I could show them concrete example of how to incorporate the principles and techniques from this book into their lives. For that reason I put together this course. So, as a bonus, you will find at the very end of the course copies of the book, both in epub format, and in audio (yes it was released as an audiobook too). I hope you enjoy them.
Your Instructor
I've been teaching Tai Chi and languages since the early 1990's in both the United Kingdom and in Spain. I've also written numerous books on Tai Chi, recorded videos and many podcasts (iTunes - still have some available). Over these years I learnt that Tai Chi is really about communication. If you can communicate the lessons in an interesting and challenging way - using body, speech, gestures and the power of images and music - then the art is open to everyone to learn.
My aim therefore is to offer the elements of Tai Chi in separate easy-to-learn courses that everyone can grasp and practice immediately. For those preferring not to break things apart there is the COMPLETE COURSE that covers art and history, postures and breath as well as applications too.
If anyone can learn Tai Chi, then I believe that anyone can pass on those skills to others. Thus, over time, our efforts become immortalised. (You may have noticed that this theme occurs regularly in the COMPLETE TAI CHI COURSE). But there is something else that happens in Tai Chi that contributes to longevity, and that is the slowing down of time. We begin to notice the smaller things in life, the things that others step over, step around or don't even see at all. And in so doing, our senses awaken.
This is the experience I want to share with you on this adventure. An exploration of our senses and of time. An exploration into the rich history, practice and philosophy of Tai Chi. .
Course Curriculum
1: The Dual Nature of this Course
Available in days
days after you enroll
2: Posture, Alignment and Learning to Listen
Available in days
days after you enroll
3: Focus, Concentration and Relaxation
Available in days
days after you enroll
Frequently Asked Questions
When does the course start and finish?
The course starts now and never ends! It is a completely self-paced online course - you decide when you start and when you finish.
How long do I have access to the course?
How does lifetime access sound? After enrolling, you have unlimited access to this course for as long as you like - across any and all devices you own.
What if I am unhappy with the course?
We would never want you to be unhappy! If you are unsatisfied with your purchase, contact us in the first 30 days and we will give you a full refund.